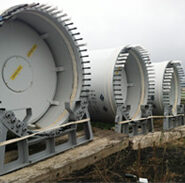 Cost Estimating
CPCII develops consistently accurate conceptual, budget and definitive level estimates to all of their Owner or AE clients.
With all disciplines of cost estimators (civil, structural, architectural, plumbing, HVAC, mechanical and electrical/I&C) we offer a full-service range of cost estimating abilities.
We start with certified professional cost estimators, as the norm, and selectively find the right client-estimator mix for each project to achieve a successful project experience.
CPCII seeks out junior estimators to mentor into successful senior level estimators. We will work with clients to help train their future estimators.
Cost estimating is an art and a science. It takes many years to master the nuances of developing consistent accurate conceptual estimates. Owners expect accuracy and CPCII delivers estimate after estimate, year after year.
CPCII has a track record of being accurate on estimates vs. contractor bids.
CPCII Historical Estimating accuracy
Estimate Type

Estimate Range

CPCII Accuracy

Order of Magnitude

(Schematic Design – 30% Design Level)

+50% / -30%

+15.75%

Budget (Design Development – 30% to 75% Design Level)

+30% / -15%

+ 9.33%

Definitive (Construction Documents – 75% to 100% Design)

+15% / -5%

+5.27%