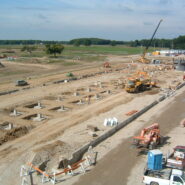 Scheduling
Development of construction schedules for client owners can provide a guide for establishing proper timing of their construction projects.
Construction schedule development takes into consideration client constraints and proper logic ties to create a professional timeline of the construction duration. Each schedule has a critical path that show activities which need to be tracked for the duration to be achieved.
Proper tracking of schedule each month lets the client monitor the critical dates of key activities to assure the duration is achieved.
Other scheduling techniques can be implemented to track cost and duration percent complete for cost control, or advanced earned value metrics can be implemented for the project.
Scheduling services:
Barchart / Gantt chart
Critical Path Method (CPM) scheduling
Risk Scheduling
Claims Scheduling
Earned Value
Cost Loaded Schedules
Baseline Schedules
Monthly Progress Schedule Updates
Software:
Primavera
MS Project
Suretrak